Jeremy and I listened to this song over and over again on our honey moon. It automatically brings us back to driving around in our Volvo station wagon, snowflakes pounding our windshield, winter 2001. Good times!
We really like the song, it's sort of "our song" and with us celebrating our
10 year anniversary
this year, I thought I'd share it with you :)
Each Monday I'd like to share with you a song/songs that I enjoy.
It's a way for me to share what music I'm listening to and, if you have a song or artist you're interested in you can share with me, too!
You can
join in with me
if you'd like, it's quite fun :)
There are
two ways
to join me:
1. Add a Music post to your blog and link up. Please include the

Music Monday

button (on the right side of the blog) Link up tools are at the bottom of my blog here
2. or, just leave a comment here letting me know what music you've been listening to lately, do you have a song that you consider "your song" with your significant other?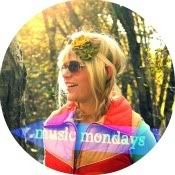 xo- Danielle