These are some of the songs I've been listening to this week that make me wanna turn up the radio and belt out the lyrics as loud as I can. My husband can vouch for that, as we spent over 14 hours in the car together this weekend! It was a feel good, sing loud type of weekend :)
Flo Rida Good Feeling
Feel Good Inc by Gorillaz (videos a bit creeepy, but I like this song)
Florence + The Machine Shake it Out (she rocks, nuff said)
and to round it out, a little Colbie Callait Brighter Than the Sun
Each Monday I'd like to share with you a song/songs that I enjoy.
It's a way for me to share what music I'm listening to and, if you have a song or artist you're interested in you can share with me, too!
You can
join in with me
if you'd like, it's quite fun :)
There are
two ways
to join me:
1. Add a Music post to your blog and link up. Please include the

Music Monday

button (on the right side of the blog) Link up tools are at the bottom of this post
2. or, just leave a comment here letting me know what music you've been listening to lately, what song do you love to sing along with??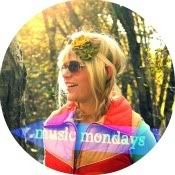 xo-Danielle