Happy New Year, yall! Hope your new year's celebrations were awesome...
what better way to usher in the new year than by posting 2011's most awesome party rock song, am i right??
and, if you've had too much partying and just need something mellow, here's a link to some kenny g for ya ;) (just make sure you don't have a fear of saxaphones before clicking!!)
I could've posted LMFAO's Sexy and I Know it, but it makes my eyeballs bleed.
Each Monday I'd like to share with you a song/songs that I enjoy.
It's a way for me to share what music I'm listening to and, if you have a song or artist you're interested in you can share with me, too!
You can
join in with me
if you'd like, it's quite fun :)
There are
two ways
to join me:
1. Add a Music post to your blog and link up. Please include the

Music Monday

button (on the right side of the blog) Link up tools are at the bottom of my blog here
2. or, just leave a comment here letting me know what music you've been listening to lately, what was your favorite song of 2011??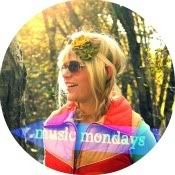 xo-Danielle