The Killers covered this song by Dire Straights called Romeo and Juliet. The
story
of Romeo and Juliet is a tragedy but the
song
Romeo and Juliet is a tragedy in a different way. Imagine, Romeo completely head over heels in love with Juliet, promised to love her forever and she forgets him, moves on...
First, I have The Killers version. I think it's really great and I'm grateful that they covered it, or else I never would have heard the original version.
The intro for the Dire Straits version is 2 minutes and 30 seconds then, you can compare the two. I love both versions of this song but, Mark Knopfler definitely has the more emotional performance. Be sure to watch at the 5:40 mark, it seriously made me tear up when I saw it the first time. I think because The Killers version is a lot faster Brandon Flowers didn't have much time to show emotion in his performance. And, maybe the fact that he's happily married it's harder to sing a song about unrequited love? But, like I said, I love both versions! Also, my husband thought that Mark Knopfler looked drunk during his performance so, maybe he's just a
sad
drunk? Either way, The Killers version is by far better to look at, hehe ;)
Each Monday I'd like to share with you a song/songs that I enjoy.
It's a way for me to share what music I'm listening to and, if you have a song or artist you're interested in you can share with me, too!
You can
join in with me
if you'd like, it's quite fun :)
There are
two ways
to join me:
1. Add a Music post to your blog and link up. Please include the

Music Monday

button (on the right side of the blog) Link up tools are at the bottom of this post
2. or, just leave a comment here letting me know what music you've been listening to lately, do you have any favorite songs of unrequited love??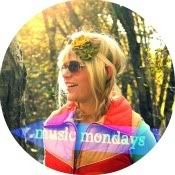 xo-Danielle